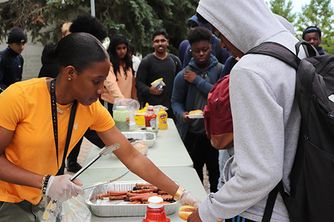 A point of contact for marginalized youth who need support.
The Club's Youth Outreach Workers (YOW) are the community's resource contact point for marginalized youth (12-21 years) who have not been successfully engaged with school or community organizations. The YOWs mentor, guide, and connect youth with services by building relationships with them within their neighborhoods.
YOW's Goals:
Engaging youth to identify their needs, strengths and interests
Connecting youth to a full continuum of prevention, early intervention and diversion resources such as employment, education, health/mental health, social/recreation, restorative justice and other services
Working with community resources to create youth development opportunities, identify and address access barriers
Engaging youth and their families with their communities
For more information, please email Erica Franklyn at efranklyn@esbgc.ca, Hawie Mohammed at hmohammed@esbgc.ca or Kareem Milson at kmilson@esbgc.ca.