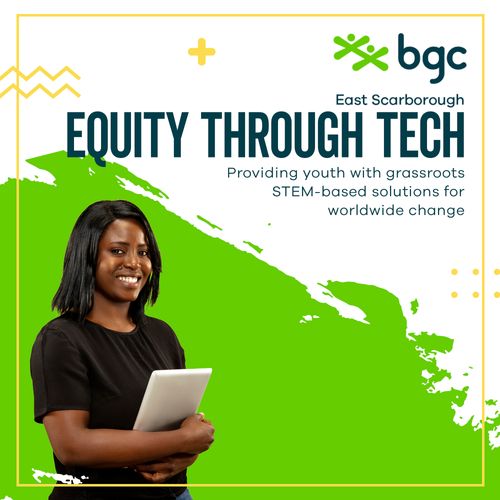 Be Boundless Presents: Equity Through Tech 2021
The Equity through Tech campaign strives to provide BIPOC youth in our community with opportunities through STEM. Within the East Scarborough community, 39% of youth do not finish high school, and only 19% of youth pursue secondary education. At BGC East Scarborough, we recognize that with education, access, and equity our children and youth will gain the confidence to pursue careers in STEM spaces.
Equity through Tech is raising awareness around the representation of BIPOC in STEM-related fields, providing STEM tools and resources to diminish the constant barrier of inaccessibility, and the development of cultural norms of BIPOC in STEM through programs and education. Our hope is that we can create a pathway through STEM-focused solutions that give our young people in the community the confidence to achieve their dreams.
We are hoping to build a brand new tech center for our youth residing in priority neighborhoods of East Scarborough. If you would like to contribute to this cause, please click the 'Donate Today' button below.